News
The First Do-It-Yourself Tile. Glue, Click, and Done!
Sep 12, 2023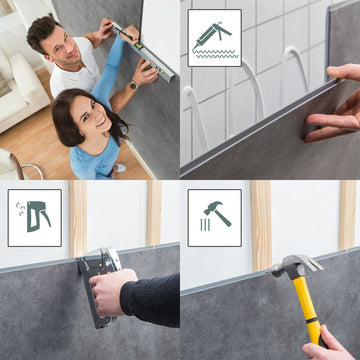 Do you remember the last time you had to install tiles in your home? The mess, time, and cost are enough to make anyone dread the process. But what if there was a way to transform your space without all the hassle completely? A solution that is not only easy to install but also stylish, durable, and practical? Sounds too good to be true, right? Well, not anymore. Welcome to the world of Duma Tiles.
Designed for the modern UK homeowner, Dumawall Tile is a revolutionary product that is set to change the face of home renovation. Forget the tedious process of traditional tiling - with Duma. It's as simple as glue, click, and done.
Whether you're a seasoned DIY enthusiast or a complete novice, Duma Tiles make it easy to create a stunning transformation in your home.
Related: Can Dumawall Be Used in Showers?
The Duma Difference
The concept of DIY tiling has been revolutionized with the introduction of Duma Tiles. These tiles are not your ordinary ceramic or porcelain squares. They are a unique blend of high-quality materials and innovative technology designed to provide an easy, efficient, and mess-free tiling experience.
Moreover, Duma Tiles are incredibly practical. They are water-resistant, which makes them perfect for wet areas like bathrooms and kitchens. And the best part? They're easy to clean and maintain, saving you time and energy in the long run.
The Duma Magic: A Closer Look
One of the key features that set Dumawall Tiles apart from their traditional counterparts is their high-quality material. Duma Tiles are made from a premium blend of materials that ensure durability and longevity.
But what truly makes Duma Tiles stand out is their patented interlocking system. This revolutionary technique allows the tiles to be easily installed by just clicking them together. No need for grout or special tools. It's as simple as glue, click, and done.
This unique feature not only makes the installation process a breeze but also results in a seamless finish that is visually appealing and professional-looking7.
Installation Made Easy
Gone are the days when installing tiles was a tedious and time-consuming task. With Dumawall Tiles, the installation process is as easy as 1-2-3.
Unlike traditional tiles, Duma Tiles come with a patented interlocking system, making them super easy to install. This means you can forget about hiring a professional tiler and do it yourself without any hassle.
Firstly, the tiles are simply glued onto the surface. Then, thanks to the patented interlocking system, they're clicked together for a seamless finish. Lastly, any excess material is trimmed off, and voila! You have a beautifully tiled area that looks professionally done.
Dumawall Tiles - The Future of Home Renovation
In an era where convenience and efficiency reign supreme, Dumawall Tiles stands at the forefront of the home renovation sector. With their streamlined installation process, not only do they save you valuable time, but they also eliminate the need for hiring a professional tiler, making Dumawall Tiles a cost-effective choice for upgrading your home. Moreover, these tiles boast exceptional durability, resilience against wear and tear, and a wide range of designs and styles to cater to your unique preferences.
If you're looking for a hassle-free, efficient, and stylish way to transform your home,
check out the Dumawall collection of tiles
today. Let Duma revolutionize the way you tile and make interior design a breeze.