News
Can Dumawall Be Used in Showers?
Aug 31, 2023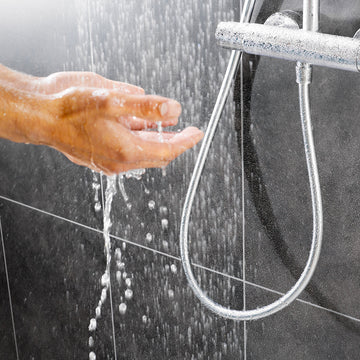 Certainly, it's an intriguing question many homeowners grapple with: can Dumawall be used in showers? Before we dive straight into the answer, let's take a step back to better understand why this question frequently arises. 
Showers, being consistently exposed to water and moisture, require materials that can withstand such conditions while maintaining their functional and visual qualities. Homeowners are perpetually on the lookout for materials that not only fulfill these requirements but also add a touch of elegance and charm to their bathrooms. In this context, the potential of using Dumawall in showers becomes a topic of significant interest.
Can Dumawall Be Used in Showers?
Yes, Dumawall can indeed be used in showers. These tiles are manufactured using a revolutionary technology called RCB (Rigid Core Board), which makes them an ideal base for showers. The wider surface of the individual panel also makes this model extremely suitable for use in the shower or bathroom.
However, it's important to note that while Dumawall is made for use on shower walls, it is not intended for the floor. Therefore, a prefabricated shower base must be purchased and installed separately.
Dumawall panels are 100% waterproof when used with silicon adhesive in the seams, making them perfect for moist environments. They do not require grout, which can be a significant advantage in terms of installation and maintenance.
Still, there are certain restrictions on their use. For instance, Dumawall panels are not intended to be attached to raw concrete. Also, although they are waterproof, they are not designed to be submerged in water.
Why Use Dumawall in a Shower?
Dumawall is a popular choice for showers for several reasons:
Waterproof

:

Dumawall is 100% waterproof, making it highly suitable for use in wet areas like showers.

Attractive design

: Dumawall comes in many different styles and colours, allowing you to customise your shower walls according to your personal taste. 

Easy Installation

:

The panels employ a tongue-and-groove system, which makes the installation process quick and convenient. They can be glued to your drywall, providing an easy and low-maintenance route to a waterproof shower.

Suitable for Large Areas

:

Thanks to the wider surface of each individual panel, Dumawall is particularly suitable for use in showers or bathrooms.
Related: How to Install Dumawall Plus?
Other Suitable Areas for Dumawall Use
Dumawall panels are incredibly versatile and can be utilised in various areas, not just showers. Here are some ways in which Dumawall can be effectively used in other areas:
Kitchen Splashbacks

: Dumawall is an excellent choice for kitchen splashbacks. It's simple to fit, highly resistant to water and stains, and it lends a sleek and modern aesthetic to your kitchen.

Bathrooms

:

Aside from showers, Dumawall can also be utilised in other parts of the bathroom. You can use it for walls, behind the sink, or even around the bath.

Cellars

:

If you're looking to refurbish your cellar, Dumawall is a brilliant option. It's resistant to mould and mildew, making it suitable for cellars that often have higher humidity levels.

Feature Walls

:

Dumawall panels can be used to create a stylish feature wall in any room of your home. With a variety of designs and colours to choose from, you can match the panels to your existing decor.

Utility Rooms

:

Given its resistance to moisture and easy cleanup, Dumawall is an excellent option for utility rooms.
Final Thoughts on Using Dumawall in Showers
We hope this article has answered the question: can Dumawall be used in showers? The answer is a resounding yes. Dumawall panels are made using RCB technology, which makes them the perfect choice for walls and bathrooms that come into contact with moisture.
So go ahead - explore all the possibilities of remodelling your shower walls with Dumawall! With its fuss-free installation and eye-catching designs, you'll be sure to have a bathroom that looks stunning and stands up against water damage. Check the latest Dumawall collections for more information on the perfect tile for your dream shower.