News
Dumawall Plus: A Before and After Transformation
Aug 24, 2023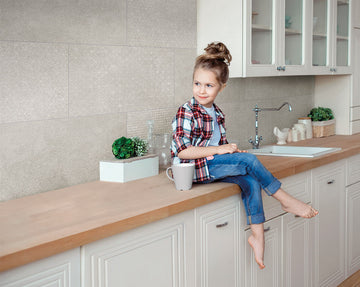 For many homeowners in the UK, the dream of creating a perfect space is often overshadowed by challenges. Traditional renovation projects are time-consuming, messy, and expensive. The UK's wet climate exacerbates the problem, leading to mould and mildew in high-moisture areas like bathrooms and kitchens. 
DIY enthusiasts often find themselves overwhelmed due to a lack of proper materials and tools, and the environmental impact of conventional renovation materials is a growing concern. What if there was a solution that could address all these issues? Introducing Dumawall Plus tiles - the answer to your renovation woes.
In this roundup, we'll showcase the before and after magic of Dumawall Plus tiles - a revolutionary home renovation solution. Let's take a look at what makes Duma tiles so incredibly special.
Before Dumawall Plus Tiles
Take a look at the 'before' images of this bathroom space. It's functional but lacks that wow factor we all crave.
After Dumawall Plus Tiles
Now, behold the magic of Duma tiles. The images after the Dumawall Plus installation show a dramatic renovation that's sure to impress. The once mundane space has now been revamped into an inviting, stylish area that exudes luxury and comfort.
How Was This Transformation Made Possible?
Installing Duma tiles is a breeze. Thanks to their dry-fit, grout-free application process, you can dramatically reduce the time and effort typically associated with traditional tiling.
Here's a quick rundown of the easy installation process B4 Bathrooms followed with Dumawall Plus:
Preparation

: We ensured the wall surface was clean, dry, and flat.

Planning

: Measured the space and planned the tile layout.

Cutting

: Used a fine-tooth saw to cut the tiles to size.

Installation

: Started from a corner and clicked the tiles together using the patented tongue and groove system.

Finishing

: Applied silicone sealant along the edges for a professional finish.

Clean-up

: Enjoyed a hassle-free clean-up as there's no grout involved!

Enjoy

: Stepped back to admire the stunning makeover!
The Magic of Dumawall Plus
Dumawall Plus is an innovative wall-cladding solution that has taken the UK market by storm. With its unique combination of practical benefits and aesthetic appeal, it's no wonder homeowners and interior designers alike are choosing Dumawall Plus for their renovation projects.
Here are some key features that make Dumawall tiles stand out:
100% Waterproof

: Designed for high-moisture areas like bathrooms, kitchens, or utility rooms, Dumawall Plus tiles are 100% waterproof. This feature makes them an excellent choice for UK homes, especially in regions with high humidity and rainfall.

Lightweight Design

: The tiles are easy to handle and transport, making DIY projects more manageable for UK homeowners.

Robust, Strong, and Durable

: Built with top-notch materials, these tiles offer long-lasting performance. They're robust and durable, ideal for handling the hustle and bustle of UK family life.

Dry-fit application with grout-free installation

:

 Traditional tiling can be a messy process, requiring grouting and a considerable amount of time. With Dumawall Plus tiles, you can enjoy a dry-fit, grout-free application, saving you time and effort – a godsend for busy UK households.

UV resistant

: The tiles maintain their colour vibrancy even under sunlight. This is great for spaces with large windows or conservatories, a popular feature in many UK homes.

Patented Tongue and Groove System

: This system facilitates a secure and seamless fit, making installation even easier.

Environmentally-friendly Solution

: In line with the UK's commitment to sustainability, these tiles are 100% recyclable. This feature makes them a responsible choice for environmentally conscious UK consumers.

Hygienic excellence

: Compared to traditional ceramic tiles, Duma tiles offer superior hygiene, an essential factor in maintaining a healthy home environment in the UK.

Can be installed directly over existing tiles

: Renovating your space just got a whole lot easier. You can install Dumawall Plus tiles over your existing tiles, eliminating the need for removal and disposal – a significant benefit considering the strict waste disposal regulations in the UK.

Variety of designs

: With a variety of designs available, you're sure to find one that suits your style, whether you prefer a classic British look or a more modern aesthetic.

Mould resistant

: Given the UK's damp climate, mould resistance is a crucial feature. These tiles help maintain a clean and hygienic environment by resisting mould growth.

Ideal for both renovations and new construction projects

: Their versatility makes them suitable for a wide range of projects, whether you're renovating an older UK property or working on a new build.

10-Year Product Guarantee

: In the UK, consumer rights are strongly protected. Rest easy knowing your investment is protected with a 10-year product guarantee.
Elevate Your Space with Dumawall Plus
As you have seen, the stunning renovation Duma tiles can bring to your spaces. Whether you're looking for a full-scale renovation project or simply want to give an existing space a facelift, Dumawall Plus is the perfect choice. 
With its host of practical benefits and aesthetic appeal, it's no wonder this revolutionary wall cladding solution has become so popular in the UK. So why not give Dumawall tiles a try today and elevate your space with this uniquely stylish product? You won't regret it.
Visit our website to discover more about Dumawall Plus and embark on your own transformation journey today.