News
Embrace the Future: Discover 100% Waterproof, Dry Fit, No Grout Wall Tiles
Jul 02, 2023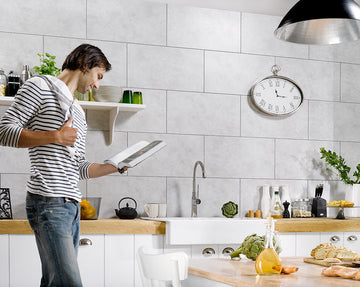 Welcome to our blog, where we invite you to join a revolutionary movement that's transforming the world of wall tiles. Are you tired of traditional grouted tiles that demand constant upkeep and are prone to water damage? Bid farewell to outdated methods and embrace the future with our innovative solution: Dumawall Plus and its lineup of 100% waterproof wonders.
The Revolution of Waterproof Wall Tiles:
Imagine a world where your walls are impervious to water, mold, and moisture-related issues. With Dumawall Plus and our range of similar products, that dream becomes a reality. Our collection of wall tiles showcases cutting-edge technology, ensuring unparalleled waterproof performance. Say goodbye to concerns about water damage and welcome a worry-free, long-lasting wall solution.
Effortless Installation:
Gone are the days of messy grout and time-consuming installations. Our dry fit system introduces a hassle-free installation process. Simply interlock the tiles, and voila! No grout, no mess—just seamless walls. Experience the joy of effortless transformation and revel in the convenience of quick and easy installation.
Aesthetic Elegance and Modern Design:
Our wall tiles epitomize sleek and modern design. From minimalistic elegance to bold artistic statements, our range offers a wide array of colors and finishes to suit your refined taste. Elevate your space and let your walls make a lasting impression with our modern and stylish wall tiles. Prepare to be amazed by the remarkable visual impact they bring to any room.
Versatility for Every Space:
Whether you're renovating your bathroom, kitchen, or any other area, our wall tiles offer the ultimate solution. Designed for both residential and commercial applications, our versatile tiles unlock endless possibilities for creativity and design. Unleash your imagination and explore the versatility and flexibility our products provide.
Uncompromising Durability:
At Duma Tiles we pride ourselves on delivering unmatched quality. Dumawall Plus and its counterparts are engineered to withstand the test of time. With their robust construction, these tiles resist scratches, impacts, and wear, ensuring your walls maintain their pristine appearance for years to come. Trust our products to deliver unparalleled durability that meets the highest standards.
Conclusion:
Welcome to a movement that embraces innovation, quality, and a hassle-free lifestyle. We invite you to be part of this waterproof revolution, where we challenge traditional norms and invite you to experience the future of wall tiles. Say goodbye to grout and welcome a new era of seamless, waterproof walls with Dumawall Plus and its extraordinary range. Visit our website today to learn more and join the movement!
Together, let's redefine the way we think about wall tiles and embrace a modern, slick, and innovative approach that's changing the game.
Stay dry, stay stylish, and welcome to the revolution!
Duma Tiles