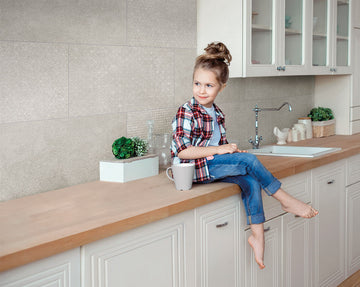 Looking to update your home with new tiles but don't want the hassle and cost of professional installation? Enter Dumawall Plus, the world's first do-it-yourself tile.
Dumawall Plus tiles are a game-changer for homeowners looking for a high-quality tile option that is durable, water-resistant, and easy to install. Made from PVC, a material known for its strength and resilience, Dumawall Plus tiles are perfect for use in areas like bathrooms, kitchens, and laundry rooms.
The installation of Dumawall Plus tiles is straightforward and user-friendly, requiring no specialized tools or equipment. The tiles can be cut to fit any size or shape space, and their lightweight design makes them easy to handle and install.
One of the most significant advantages of Dumawall Plus tiles is their waterproof nature. They are built to withstand frequent water exposure, making them an ideal choice for wet areas like shower surrounds, tub surrounds, and backsplashes. Furthermore, they are scratch-resistant, dent-resistant, and stain-resistant, ensuring their durability and long-lasting beauty.
Dumawall Plus tiles come in a diverse range of styles and designs, ensuring that there is a design to suit every environment.
So why should you choose Dumawall Plus? The benefits are clear: easy do-it-yourself installation, durability, water-resistance, and a wide variety of style options. Furthermore, all while experiencing the satisfaction of doing the project yourself.
In summary, Dumawall Plus is a game-changing product that will provide a hassle-free, durable, and stylish solution to your tiling needs. With its innovative design and easy installation, Dumawall Plus is a must-have for any homeowner looking to upgrade their home.